PEAK: YOGAMus -Candlelit Bikram yoga class to music
This class is taught by:
CJ Roberts: Head Teacher & Studio Director.
For CJ, yoga has been a life-saver, bringing balance to her life. CJ's neck and shoulders, which were damaged in a car accident, became pain-free through regular practice. Importantly, she has learnt to focus and be satisfied with what she can give mentally and physically on a class-by-class basis every day, just as long as she's doing her best. CJ has extremely high standards and tries optimally in all aspects of her life, always committing to going that extra mile if that's what's needed. She truly believes that people of all ages can and should practice yoga, especially those from eight to nine years up. Life for young people is quite fast these days and more than anything they need to be in touch with their inner selves and know their limitations to build their self-confidence.
CJ's ultimate goal as a teacher, coupled with her natural ability to read the body and quickly assess misalignments and potential weaknesses, is to train some yoga champions of the future. CJ teaches a dynamic class, leaving your whole body worked hard. This leaves you energised and refreshed. In her dual role as a studio owner in Brighton and Balham, CJ hopes to enthuse all the students at her studios with her wealth of experience gained from observing how yoga really does heal, change the way we think and behave, but most of all, change the way we interact with people in our lives. 'Self love, self preservation and a will to succeed, starts with you.'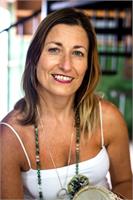 Marta started her Bikram journey in 2009 when one of her friends suggested Bikram and it was love at first class. In 2013 she gave up her career in finance to attend the Bikram yoga teacher training. Besides Bikram yoga she is a certified teacher in Kundalini Yoga and Kids Yoga and her next goal is to specialise in teaching kids with special needs. After graduating she taught in the US, Australia and in Indonesia. She loves sharing her passion for yoga wherever she goes. Teaching in so many different studios, and to such a diversity of students from different cultures, is one of the most rewarding and fulfilling experiences.
Marta's classes are full of energy and passion she transmits to the students and she emphasizes the importance of breathing, alignment and having fun. She believes yoga is not about the poses but about controlling the mind through the breathing. She encourages the students to push themselves through their mental barriers so that they can develop their true potential without all the self-imposed mind limitations.
YOGAMus - Please join us for the first ever YOGAmuse class, where you will be guided through your 90 minutes of Bikram Yoga accompanied by soothing Music in a candlelit class. There is no additional charge, normal class rates apply. Booking is 8 days in advance.
Upcoming classes:
Sign Up

Tue

22 Aug 8:00 pm - 9:00 pm

with

Carolyn

Jikemi-Roberts




Sign Up

Fri

25 Aug 7:30 pm - 8:45 pm

with

Almania

Teacher




Sign Up

Tue

29 Aug 8:00 pm - 9:00 pm

with

Carolyn

Jikemi-Roberts




Sign Up

Fri

01 Sep 7:30 pm - 8:45 pm

with

Marta

Antero




Tue

05 Sep 8:00 pm - 9:00 pm

with

Carolyn

Jikemi-Roberts




Fri

08 Sep 7:30 pm - 8:45 pm

with

Marta

Antero




Tue

12 Sep 8:00 pm - 9:00 pm

with

Carolyn

Jikemi-Roberts




Fri

15 Sep 7:30 pm - 8:45 pm

with

Marta

Antero




Tue

19 Sep 8:00 pm - 9:00 pm

with

Carolyn

Jikemi-Roberts




Fri

22 Sep 7:30 pm - 8:45 pm

with

Marta

Antero




Tue

26 Sep 8:00 pm - 9:00 pm

with

Carolyn

Jikemi-Roberts




Fri

29 Sep 7:30 pm - 8:45 pm

with

Marta

Antero




Tue

03 Oct 8:00 pm - 9:00 pm

with

Carolyn

Jikemi-Roberts




Fri

06 Oct 7:30 pm - 8:45 pm

with

Marta

Antero




Tue

10 Oct 8:00 pm - 9:00 pm

with

Carolyn

Jikemi-Roberts




Fri

13 Oct 7:30 pm - 8:45 pm

with

Marta

Antero




Tue

17 Oct 8:00 pm - 9:00 pm

with

Carolyn

Jikemi-Roberts




Fri

20 Oct 7:30 pm - 8:45 pm

with

Marta

Antero




Tue

24 Oct 8:00 pm - 9:00 pm

with

Carolyn

Jikemi-Roberts




Fri

27 Oct 7:30 pm - 8:45 pm

with

Marta

Antero