PEAK: Warm Yoga Flow Class 75 mins
This class is taught by: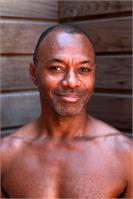 Paul was on a trip to Miami 2004 when he saw a sign for a Bikram Yoga studio. After the first class he was hooked, he couldn't get enough of it! Paul practiced every day of his vacation. Returning to London, Paul continued with his practice before going on the teacher training in Spring 2006. Paul's background is in Contemporary Dance. He performed for various dance companies around Europe and his yoga practice has given him focus. Paul enjoys teaching and being able to support the students with their practice. Paul encourages students to have an awareness of their body, mind and the process of practicing yoga. He teaches a disciplined, positive class with a light sense of humour.
Teachers will lead you through this Warm Vinyasa Flow Class. This class is more dynamic and the room is warm
Upcoming classes:
Sign Up

Tue

23 Oct 4:30 pm - 5:45 pm

with

Martin

Wieser




Sign Up

Wed

24 Oct 6:00 pm - 7:15 pm

with

Paul

Spencer Dobson




Sign Up

Thu

25 Oct 6:30 am - 7:45 am

with

Kee

Chan




Sign Up

Sat

27 Oct 3:00 pm - 4:15 pm

with

Martin

Wieser




Sign Up

Sun

28 Oct 10:00 am - 11:15 am

with

Paul

Spencer Dobson




Sign Up

Tue

30 Oct 4:30 pm - 5:45 pm

with

Martin

Wieser




Sign Up

Wed

31 Oct 6:00 pm - 7:15 pm

with

Paul

Spencer Dobson




Sign Up

Thu

01 Nov 6:30 am - 7:45 am

with

Kee

Chan




Sign Up

Sat

03 Nov 3:00 pm - 4:15 pm

with

Martin

Wieser




Sign Up

Sun

04 Nov 10:00 am - 11:15 am

with

Paul

Spencer Dobson




Sign Up

Tue

06 Nov 4:30 pm - 5:45 pm

with

Martin

Wieser




Wed

07 Nov 6:00 pm - 7:15 pm

with

Paul

Spencer Dobson




Thu

08 Nov 6:30 am - 7:45 am

with

Kee

Chan




Sat

10 Nov 3:00 pm - 4:15 pm

with

Martin

Wieser




Sun

11 Nov 10:00 am - 11:15 am

with

Paul

Spencer Dobson




Tue

13 Nov 4:30 pm - 5:45 pm

with

Martin

Wieser




Wed

14 Nov 6:00 pm - 7:15 pm

with

Paul

Spencer Dobson




Thu

15 Nov 6:30 am - 7:45 am

with

Kee

Chan




Sat

17 Nov 3:00 pm - 4:15 pm

with

Martin

Wieser




Sun

18 Nov 10:00 am - 11:15 am

with

Paul

Spencer Dobson