HOT 60 MINS Yoga SHORT (Sorry, no entry for 1st timers)
This class is taught by: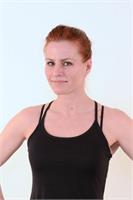 Karen was first introduced to Bikram yoga early 2009. Having suffered with lower back pain for many years, she found immediate relief and benefit, and immersed herself into the discipline. With strict dedication she achieved rapid progression and found her life underwent significant improvement, as she developed both spiritually and physiologically. In spring of 2011, she decided she wanted to pass on this wonderful experience to others, undertaking the Bikram training course in Los Angeles and is now a fully qualified teacher. Karens philosophy is 'To know yoga, is to know Peace.' She is looking forward to helping others achieve the serenity and fulfilment she has found in her teaching. In 2014 Karen wanted to broaden her teaching skills and qualified in pregnancy yoga.
Upcoming classes:
Mon

17 Dec 12:00 pm - 1:00 pm

with

Sam M

Magee




Sign Up

Wed

19 Dec 12:00 pm - 1:00 pm

with

Karen B

Butler




Sign Up

Mon

24 Dec 12:00 pm - 1:00 pm

with

Sam M

Magee




Sign Up

Mon

31 Dec 12:00 pm - 1:00 pm

with

Sam M

Magee




Wed

02 Jan 12:00 pm - 1:00 pm

with

Shona

Langridge




Mon

07 Jan 12:00 pm - 1:00 pm

with

Sam M

Magee




Wed

09 Jan 12:00 pm - 1:00 pm

with

Karen B

Butler




Mon

14 Jan 12:00 pm - 1:00 pm

with

Sam M

Magee




Wed

16 Jan 12:00 pm - 1:00 pm

with

Karen B

Butler




Mon

21 Jan 12:00 pm - 1:00 pm

with

Sam M

Magee




Wed

23 Jan 12:00 pm - 1:00 pm

with

Karen B

Butler




Mon

28 Jan 12:00 pm - 1:00 pm

with

Sam M

Magee




Wed

30 Jan 12:00 pm - 1:00 pm

with

Karen B

Butler