Paul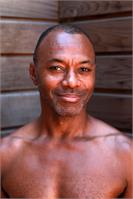 Paul was on a trip to Miami 2004 when he saw a sign for a Bikram Yoga studio. After the first class he was hooked, he couldn't get enough of it! Paul practiced every day of his vacation. Returning to London, Paul continued with his practice before going on the teacher training in Spring 2006. Paul's background is in Contemporary Dance. He performed for various dance companies around Europe and his yoga practice has given him focus. Paul enjoys teaching and being able to support the students with their practice. Paul encourages students to have an awareness of their body, mind and the process of practicing yoga. He teaches a disciplined, positive class with a light sense of humour.
Paul instructs the following:






Teachers will lead you through this Warm Vinyasa Flow Class. This class is more dynamic and the room is warm




The 26 Bikram postures, 2 sets of everything. A faster version of the classic Bikram 90 minute class




Bikram Yoga is a form of Hatha Yoga conducted in a heated room. The 90 minute class is designed to work all the muscles, tendons, ligaments and joints in the entire body throughout the 26 postures. Beginners are welcome. Be prepared to sweat!