Karen B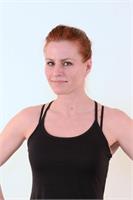 Karen was first introduced to Bikram yoga early 2009. Having suffered with lower back pain for many years, she found immediate relief and benefit, and immersed herself into the discipline. With strict dedication she achieved rapid progression and found her life underwent significant improvement, as she developed both spiritually and physiologically. In spring of 2011, she decided she wanted to pass on this wonderful experience to others, undertaking the Bikram training course in Los Angeles and is now a fully qualified teacher. Karens philosophy is 'To know yoga, is to know Peace.' She is looking forward to helping others achieve the serenity and fulfilment she has found in her teaching. In 2014 Karen wanted to broaden her teaching skills and qualified in pregnancy yoga.
Karen B instructs the following:
Bikram Yoga is a form of Hatha Yoga conducted in a heated room. The 90 minute class is designed to work all the muscles, tendons, ligaments and joints in the entire body throughout the 26 postures. Beginners are welcome. Be prepared to sweat!