Tammy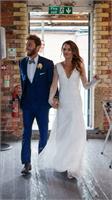 Tammy was a dedicated gym bunny her whole life and didn't think anything would tear her away from her kettlebell and spinning sessions until a couple of friends suggested Bikram yoga. Tammy went every day of her intro offer and was amazed at the immediate and drastic effects the yoga had – especially on her insomnia. She signed up as an annual member right away and has practiced almost every day since, culminating in attending teacher training in 2012.
Through this practice, Tammy has found strength and flexibility she didn't even know she had. This has led her to explore other yoga disciplines as well which have further enhanced her Bikram experience. As a teacher, Tammy loves seeing the smiling happy faces leaving the hot room and realising that the powerful and energising benefits she herself has gotten from the practice are being felt by her students too.
Tammy instructs the following:



Bikram Yoga is a form of Hatha Yoga conducted in a heated room. The 90 minute class is designed to work all the muscles, tendons, ligaments and joints in the entire body throughout the 26 postures. Beginners are welcome. Be prepared to sweat!