Marta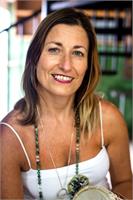 Marta started her Bikram journey in 2009 when one of her friends suggested Bikram and it was love at first class. In 2013 she gave up her career in finance to attend the Bikram yoga teacher training. Besides Bikram yoga she is a certified teacher in Kundalini Yoga and Kids Yoga and her next goal is to specialise in teaching kids with special needs. After graduating she taught in the US, Australia and in Indonesia. She loves sharing her passion for yoga wherever she goes. Teaching in so many different studios, and to such a diversity of students from different cultures, is one of the most rewarding and fulfilling experiences.
Marta's classes are full of energy and passion she transmits to the students and she emphasizes the importance of breathing, alignment and having fun. She believes yoga is not about the poses but about controlling the mind through the breathing. She encourages the students to push themselves through their mental barriers so that they can develop their true potential without all the self-imposed mind limitations.
Marta instructs the following:
YOGAMUS - Please join us for the first ever YOGAmuse class, where you will be guided through your 90 minutes of Bikram Yoga accompanied by soothing Music in a candlelit class. There is no additional charge, normal class rates apply. Booking is 8 days in advance.




The 26 Bikram postures, 2 sets of everything. A faster version of the classic Bikram 90 minute class




Bikram Yoga is a form of Hatha Yoga conducted in a heated room. The 90 minute class is designed to work all the muscles, tendons, ligaments and joints in the entire body throughout the 26 postures. Beginners are welcome. Be prepared to sweat!