Carolyn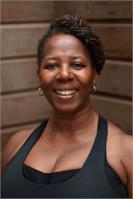 CJ Roberts: Head Teacher & Studio Director.
For CJ, yoga has been a life-saver, bringing balance to her life. CJ's neck and shoulders, which were damaged in a car accident, became pain-free through regular practice. Importantly, she has learnt to focus and be satisfied with what she can give mentally and physically on a class-by-class basis every day, just as long as she's doing her best. CJ has extremely high standards and tries optimally in all aspects of her life, always committing to going that extra mile if that's what's needed. She truly believes that people of all ages can and should practice yoga, especially those from eight to nine years up. Life for young people is quite fast these days and more than anything they need to be in touch with their inner selves and know their limitations to build their self-confidence.
CJ's ultimate goal as a teacher, coupled with her natural ability to read the body and quickly assess misalignments and potential weaknesses, is to train some yoga champions of the future. CJ teaches a dynamic class, leaving your whole body worked hard. This leaves you energised and refreshed. In her dual role as a studio owner in Brighton and Balham, CJ hopes to enthuse all the students at her studios with her wealth of experience gained from observing how yoga really does heal, change the way we think and behave, but most of all, change the way we interact with people in our lives. 'Self love, self preservation and a will to succeed, starts with you.'
Carolyn instructs the following:
YOGAMUS - Please join us for the first ever YOGAmuse class, where you will be guided through your 90 minutes of Bikram Yoga accompanied by soothing Music in a candlelit class. There is no additional charge, normal class rates apply.




Bikram Yoga is a form of Hatha Yoga conducted in a heated room. The 90 minute class is designed to work all the muscles, tendons, ligaments and joints in the entire body throughout the 26 postures. Beginners are welcome. Be prepared to sweat!




Hot Inferno Pilates is a training system that combines Pilates principles with HIIT (high intensity interval training). An intense full body workout designed to strengthen muscles, increase flexibility and improve overall health. This simple system works - creating quick visible results. You will get long lean muscle mass, burn fat, increase fitness levels, create a strong core, improve circulation and increase flexibility. You will practice on a yoga mat so there is zero impact, protecting your joints and muscles. Hot Pilates combines cardio and muscle toning in a hot room. The HIIT keeps your heart rate up, helping to burn fat. The pilates principles sculpt your body. The heat loosens the muscles and the humidity makes you sweat, elevating your heart rate, boosting metabolism and promoting fat burn. What better way to set yourself beautiful!