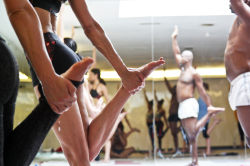 Yogiraj Bikram Choudhury is the founder of the worldwide Bikram Yoga College of India. Born in Calcutta in 1946, Bikram began yoga at the age of 4 with India's most-renowned physical culturist at that time, Bishnu Ghosh, the younger brother of Paramahansa Yogananda, author of the most popular book on Yoga, The Autobiography of a Yogi, and founder of the Self-Realisation Fellowship in Los Angeles.

Bikram practiced yoga at least 4 to 6 hours every day at Ghosh's College of Physical Education in Calcutta. At the age of 13 he won the National India Yoga Championship. He was undefeated for the following three years and retired as the undisputed All-India National Yoga Champion.

At 17, an injury to his knee during a weight-lifting accident brought the prediction from leading European doctors that he would never walk again. Not accepting their pronouncement, he had himself carried back to Bishnu Ghosh's school, for he knew that if anyone could help to heal his knee, it was his teacher. 6 months later, his knee had totally recovered. Ghosh was a celebrated physical culturist and the first to scientifically document yoga's ability to cure chronic physical ailments and heal the body.

Bikram was asked by Ghosh to start several Yoga schools in India. The schools were so successful that at Bishnu's request, Bikram travelled to Japan and opened 2 more. He has since brought his curative methods of yoga therapy around the world.

Bikram's series of 26 postures works the whole body in 90 minutes. Each posture works systematically into the next; building energy, stamina and flexibility, and incorporating strength, challenge, gravity and balance.

The Bikram technique allows the stretching, squeezing and massaging of the internal organs, flushing out the cardiovascular system and stimulating the endocrine and nervous systems, which releases any deficient hormones and enzymes. The body is self-regulating and self-adjusting.