What does Bikram Yoga do for you?
Supplies fresh oxygen and nutrients to all parts of the body that may have been stagnant
Flushes the lymphatic system
Boosts the organs of the immune system
Balances the endocrine glands
Expands the lung capacity and strengthens the heart
Lubricates joints and strengthens bones
Stretches, tones and balances muscles all over the body to support the joints and spine
Helps eliminate toxins
Improves stamina through deep breathing and strength building
Improves circulation throughout the body
Stills thought waves in the mind
Brings connection between mind and body
What do I Bring to my Bikram yoga Class?
You will need a yoga mat, towel and a bottle of water for the class.
You can hire a mat for £1.00
You will need two towels. We rent these for £1.50 each.
You will need a bottle of water. We sell these for £2.00 each.
What should I wear for Bikram Yoga?
Ladies wear shorts preferably, or leggings and a light t-shirt or bra top.
Men wear shorts preferably, and a light t-shirt if necessary.
Wear something that allows free movement, but will not become cumbersome when wet.
Are there changing facilities at Bikram Yoga Balham?
Yes, we have separate male and female changing rooms, showers and toilets.
What Does Bikram Yoga do for your body?
What does Bikram Yoga do for the body?
Teaches you to breathe fully & correctly
Builds strength & flexibility
Tones, lengthens & strengthens your muscles
Improves circulation
Reshapes your body
Promotes better sleep
Raises energy levels
Clears your mind
Calms your soul
Helps weight loss by balancing your metabolism
Improves posture
Works every system of the body
Works every organ, gland, muscle, tendon & ligament
Reduces stress
Eliminates back pain
Good for depression & memory loss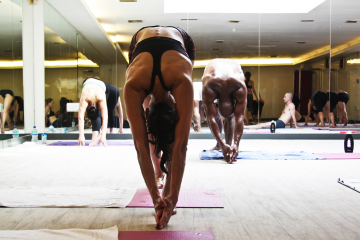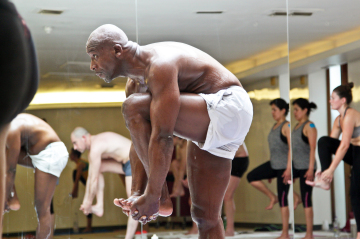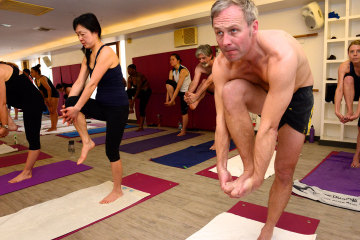 Can you do Bikram Yoga Pregnant?
The first trimester is a vital time for the developing fetus and you may be tired and/or feeling ill. Therefore, it is best to wait until after your 12th week before starting the yoga. Postures are modified for pregnancy but done with the regular students so you are welcome at any class. If you already do Bikram yoga and feel well, you may just continue your regular practice until you feel the need for the modifications (between 8 and 12 weeks).
I've never done Bikram Yoga classes before. Can I do this?
This is the most common misconception that prevents people from coming to a Bikram yoga class. You don't need to be flexible to do yoga. Just come to class and "try the right way" to do each posture and you will get 100% benefit. It is all about stretching.
Will everyone look at me...middle aged and less than in the prime of life? not in shape?
Bikram says: ' Never too old, never too sick, never too bad to start from scratch again'.
People of any age and condition can do this yoga. It reduces the symptoms of many chronic diseases and is a great preventative activity for the whole body. Bikram created this yoga for people in chronic pain. He created it to eliminate their pain and to reverse the signs of aging.
Is it normal to feel dizzy, sick or nauseous in the room ?
Yes these are normal sensations to experience in class, especially for the beginner. The most important thing for you to do is breathe normally (in and out through your nose). Just do the best you can, resting when you feel the need. Learn to listen to your own body and take care of yourself in class. Drink lots of water the day before class to make sure you are well hydrated. A headache is a symptom of dehydration. Feeling tired or wiped out after class is a sign that you need to breathe more in class. The worse you feel, the more you need Bikram yoga. Feeling terrible in class is followed by feeling great after class so hang in there and stay for the whole 90 minutes....You'll be glad you did!
What can I do if I can't tolerate the heat?
Four consecutive days of Bikram yoga will increase your tolerance of the heat.
Can I practice if I am on my period?
Bikram yoga is very good for toning the reproductive system as it directly affects the reproductive organs and endocrine glands. The women's cycle becomes regular and complaints of irregularity and PMS decrease.
Can Bikram Yoga Lower Blood Pressure?
Speak to your doctor for advice before you have your first class and don't push too hard initially. Let the teacher know before class that you have high blood pressure. Unstable or high blood pressure responds very quickly to a regular Yoga practice. Initially, when tested a week after your first class you may see a slight rise. By the second week this should be closer to normal and will remain there with regular practice. Some clients who practice Bikram Yoga regularly, have reported that they no longer need to take their medication.
Use caution in the following postures until the blood pressure normalizes:
Half Moon, backward bend
Standing Bow Pulling
Balancing Stick
Cobra
Third part of Locust (both legs)
Full Locust
Camel
Floor Bow
In the beginning only hold these postures for 5 seconds, building up to 10 seconds after 2 weeks' continual daily practice. Make sure that you rest in between postures. It is also essential to breath normally (in and out through the nose) throughout the class.
Can Bikram Yoga Work For Weight Loss?
Why does Bikram Yoga Burn that many calories?
Why does Bikram Yoga Work
What does Bikram Yoga do for you?
Practicing Bikram Yoga cultivates the mental faculties of faith, self control, concentration, determination, and patience. As we become more aware of our inner life, we notice how events, interactions, and even the atmospheric pressure affect us. When we are aware, we can exercise choice in our response. This helps us balance our emotional life.